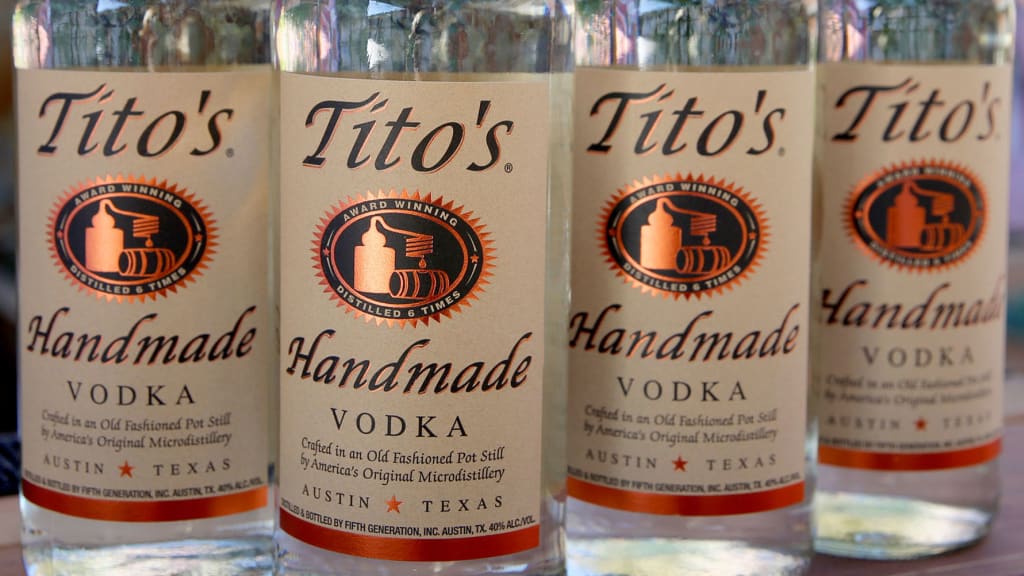 Greg Martellotto, an Entrepreneurs' Organization (EO) member in San Diego, is the winemaker at Martellotto Wines and founder and CEO of Big Hammer Wines. A 5-year EO member with a thirst for learning, Greg unexpectedly found himself seated on a flight beside an iconic spirits entrepreneur–and took full advantage of the opportunity. Here's what Greg shared:
Recently, I was fortunate to sit next to Tito Beveridge on a flight from Austin to San Diego. He prefers the window seat, and since it was a full flight, I was in the middle seat. In essence, I kind of had him cornered for what would turn out to be an engaging and memorable conversation. Here are a few takeaways from our non-stop, rapid-fire question-and-answer session at 35,000 feet. Answers are edited for brevity.
If you're unfamiliar with Tito's Vodka and the huge success it has achieved, particularly in the last decade, you probably don't drink alcohol. Tito's started as the first legal, operating distillery in Texas in 1997. At that time, the Texas Alcoholic Beverage Commission didn't even know how to license a distillery because there weren't any modern-day distilleries there. Today, Tito's has become the top-selling spirits brand in the US.
Tito has achieved something rare that few people and brands enjoy. I asked Tito what it is like to have his name on bottles that are distributed so widely and to have his name so well recognized that people ask for it by name at bars. He replied with his signature wry grin, "It's pretty cool, isn't it? Kind of like Jack Daniels."
The man behind his namesake brand has an incredible story, and he generously shared these four lessons and experiences:
1. Don't veer from the vision.
Being a single-minded visionary and pioneer often invites criticism. For years, people told him to change his label–which he designed with a rough, brown paper bag look–and upgrade his packaging. When frosted spirits bottles with images inside (like Grey Goose and Belvedere) were all the rage, Tito resisted calls to change the packaging. More recently, the rise of RTDs–ready to drink cocktails in cans–and flavored vodkas have been surging, and he's refused to chase those fads. Similarly, he has rejected doing limited edition or local editions of Tito's, although he did release a commemorative label this year to celebrate 25 years of the company. Tito likes doing one thing really well.
2. Build a robust distribution network and make money for your partners.
It took Tito more than a dozen years to build out a distribution network across the US. It took years just to convince distributors to take on a novel product. No one had heard of vodka from Texas before, and no one thought anyone would buy vodka that wasn't from Russia. Since that time, he's mostly stuck with and continued to work with the distributors who supported him in the early years, suggesting an increasingly rare loyalty.
3. Be creative and industrious.
Tito tried to find investors in the early years, but they all passed. So, he had to be creative. Tito self-financed and had as many as 19 credit cards. He constantly shifted the balances to zero-interest and low-interest rate cards. Fortunately, he was able to strike a deal with his distributor in Texas to be paid three days after delivery. He said, "As soon as that check arrived in the mail, I'd go straight to the bank to deposit it."
4. Hire a team with expertise as you grow.
Tito still holds "every corporate title" and enjoys watching the fruit of his labors continue to blossom. He has hired people who have more knowledge than he does about certain aspects of the business and are better at doing the things he doesn't like. "I'm at the point where I do what I want to do. I hop on sales and marketing calls–and I just slow them down." As an extrovert, he loves to travel and visit with clients and sales reps, and thank his supporters. He loves that parties, events, and charitable fundraisers are back–although they seem to be less fun than they used to be.
Tito and his vodka have become great ambassadors for Texas. As a native Texan, I'm proud of his success and happy to have had three hours to chit-chat with him. I'm not a vodka drinker, but I'd be happy to drink some with Tito the next time our paths cross!